Magazines Appeared In


Soap Opera Weekly: February 13th, 2001
McKenzie as Hip Star of The Week!! Way to go Mac!!!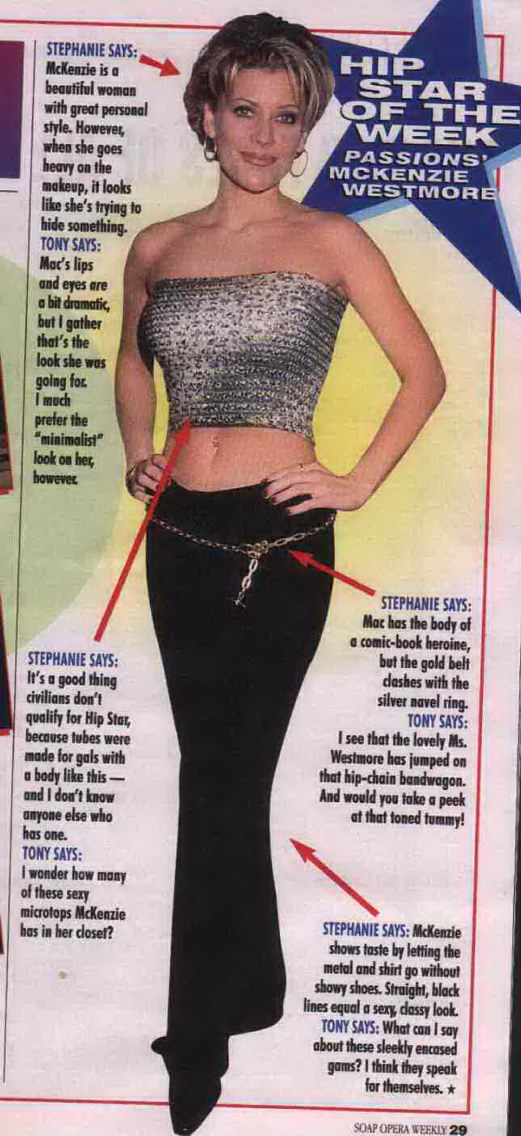 Soap Opera Update: January 16th, 2001
Mckenzie as well as Galen were named Daytime's Most Beautiful People!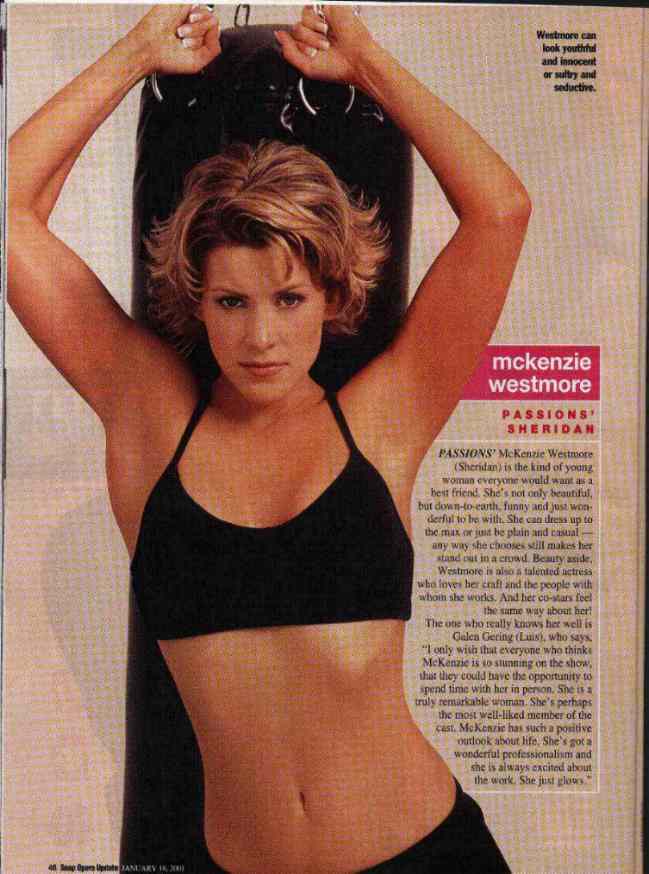 Starweek: A Tornoto Magazine
Once upon a time there was a pretty baby girl with a pretty blonde curl. Robert DeNiro bounced her on his knee in the film Raging Bull. And when they called, "makeup" chances are her father was applying it.
That little girl was McKenzie Westmore and she grew up to play Sheridan Crane on Passions.
Her background could have come out of a movie script. Her great Grandfater George Westmore founded the first Hollywood makeup department in 1927. Her grand father; Montague Westmore, was the hairstylist and makeup artist for Gone With the Wind.
Her father, Michael Westmore, has won 9 Emmys and an Oscar for Mask. He created all the aliens and makeup for Star Trek.
Westmore was the envy of the neighbourhood kids at Halloween, when her dad used to create her fantasies. Her all time favourite was one of the cast member in the musical Cats. She loves animals. At one time she wanted to be a veterinarian. Her mother, Miriam, was a fitting model for costume designer Edith Head and she met her future husband on the job in Universal Sutdios. They have been married for 35 years.
Westmore was born 23 years ago in Van Nuys, CA, but holds dual U.S. and Canadian citizenship. Her mother was born in Newfoundland.
"I'm so glad we have dual citizenship," she enthuses. "There's so much (acting) work in Canada." :)
She mader her acting debut at 15 months doing a detergent commercial. After her Raging Bull role, she could have easily retired. But because she was painfully shy, her parents enrolled her in acting class. Westmore did school plays and local theatre and made her TV debut on Star Trek: The Next Generation. Her other credits include Star Trek 9: Insurrection, Weird Science and the role of Mindy on Days of our Lives.
She studied with Lee Strasburg Institute and Uta Hagen Master Class and is a trained Opera Singer.
"There was a magazine article calling my father 'the last of the living dinosaurs' and I couldn't let my family name die," Besides, Westmore has always loved musical theatre. "I'd love to star on Broadway, I'd love to fill in for someone like Rosie O'Donnell and Susan Lucci did. "One of the first musicals I saw was Cats. I was on the edge of my seat. Michael Crawford was my idol-he's the one who really inspired me. I saw him in Phantom 25 times. That and Les Miserables are my favourite. I saw Les Miz 30 times.
"My dad was in Vegas doing FX and Michael came to the house. I was so nervous being in the presence of such greatness."
Sher got her Raging Bull gig when Robert DeNiro visited the house.
"My dad was doing the makeup for Robert DeNiro and he came to the house for a face cast," she recalls. "He'd play with me but I have no memory of it. we bonded, He asked my parents if they wouldn't mind if I played his daughter.
ok, that's it guys, the rest, (which I think is the best part cause it's about her and Galen) I already posted under "hollywood is in her blood" This article made me an even greater fan of McKenzie. She really is an amazing role model :)