Fan Encounters


These are people who met Kenz and would like to share their fun experience of meeting the nicest person in the world!!!!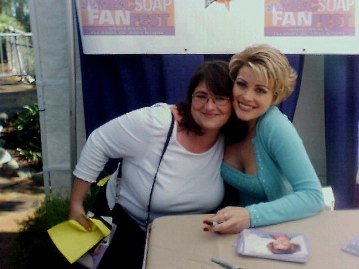 I was lucky enough to meet McKenzie at the NBC Fanfest in November. The truth is that I didn't know what to expect. I had no idea what to expect, but what happened in Orlando was definitely not it! It was a dream come true and then some. A group of us from TP all went to see her first thing Saturday morning, and she was amazing. I couldn't believe it, was she was more beautiful in person than on TV, and she seemed so friendly and accessible to her fans. I got my autographed card and my picture with her, and thanked her for everyone on Passions giving us the opportunity to come and meet them, and she was so sweet! Then that night, she, Galen and James Hyde all came and hung out with us at a dinner that had been planned. She was amazing! She knew a lot of the people in their from their posts on Talkpassions, and one of the girls who was staying with me in Orlando began crying (she hadn't had so much fun in a long time), and McKenzie just hugged her until she stopped. It was incredible to me that she would do that. Then on Sunday I watched her stay an extra hour at one of her signings just so the people who had been told they couldn't get an autograph could after all. I was so impressed with her poise, her style, and just how down to earth she seemed. I will never forget meeting her, and I am looking forward to seeing her again. :)
~April Gladney aka Storm (TP)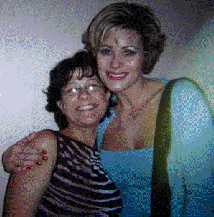 I met McKenzie back in November of 2000 when NBC held its first annual Soap Fan Fest. What a wonderful experience that was! When I first arrived at the park--I had high expectations--and usually when you have high expectation, nothing turns out right--but this fan event was absolutely perfect! I remember
waiting in line an hour before Mckenzie's autograph session--but it was the wait! When I finally got the
chance to meet her, along with Ben and Galen, she was exactly was I expected(not only a beautiful on the
outside, but in the inside as well) and then some! When I told her that I was "giggles27" from Talk
Passions and was the girl who sent her the "rock doll," she knew me! She absolutely made my day! That
same night--The original TP members got together for a private dinner at the local hotel. About 20 minutes into the dinner, Mckenzie along with James and Galen showed up also. As soon as Mckenzie entered the room--she went around,hugging everyone! Not only did she make my day at the autograph sessions but also my night at the dinner! She is truly one of a kind. I guess the song "God must have spent a little more time on you" applies to her here Thanks Mac for everything you do for you fans!!! I really can't wait to meet her again!!
Melissa "giggles27"